The Book Fair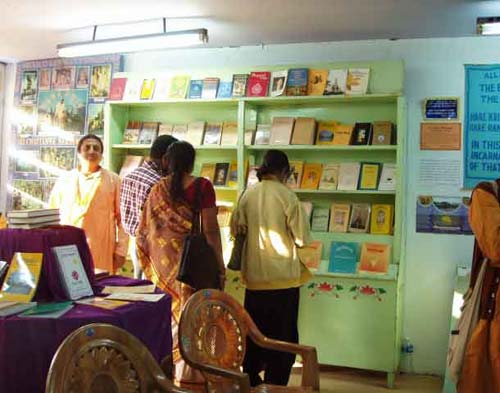 The Annual Book fair is held at Rabindra Bhawan during the Children's Day week in November.
I loved going to the book fair ever since I was a kid.Infact now I can trace my literary and book reading evolution with the kind of stalls I used to visit.Never really bought anything in the later stages but I guess that's what everyone else did.And not buying anything was another link in the chain of evolution.
As a kid I used to go to the places where Archies,Tintins,Enid Blytons,Hardy Boys etc. were kept.Then try and finish as many of them as possible in the usual 4-5 hour stay.And of course had a whole week to do that.Then as I grew slightly older interests switched to the Agatha Christies,Alistair McLeans,and out of natural interests quiz books and cricket biographies.When it came to buying books though,the Vostok Russian stall was the best buy.Hardbound,colorful books for less than 50 bucks.And the content was not that bad.Then I brought Chekhov,Solzenysthin unknowingly going by the price and later was happy that I did that.
Nearing 9th std. the interests shifted to course books.And a pseudo interest in science.So down came A Brief History of Time,a few ICSE papers and the usual stuff.Literature did not die though,had the short stories of O.Henry,Wilde,Maupassant and the occassional classic like Three Men in a Boat,Siddhartha and some sci-fi books.After 10th it was all IIT.Everyone just flocked there to have a look and buy different books that all said the same thing.Though most of my time was spent near the Penguin stalls,looking at the back covers of every possible book and reading excerpts.Purchasing them was out of the question.But still did manage to read Seth and Arundhati Roy courtesy some friends I coaxed.Novels improved English I told them,never mind mine,and got them to buy some books I wanted to read.Selfish maybe,but they won't be losers either.
There was more to the book fair though.Observing people is always a nice pastime,all the more here.The pious crowd in the Geeta Press stores,some of whom thought that the salvation could be reached by amassing as many religious scriptures as possible.The high end crowd at the Penguin stalls,who paid their bills by credit cards,which I thought was a big deal then (typical middle class mentality).The obviously bored people who ran more often to the junk food stall arrangements than book stalls.The curious students looking for that elusive insightful book.The mothers,aunties flocking in the cooking,weaving,painting sections.The mystic crowd in the Osho and Vivekanand stalls.Everyone.
The sounds along with the sights add to the effect.The soothing Rabindra Sangeet which I don't hear anytime,anyplace else has a spiritual effect so to speak.The music only interrupted by request from some gentleman who is looking for a particular book,but no one minds that.The other sense,that of smell is also aroused once I enter the Vishwa Bharti stall.Infact the major reason my mom wants me to go to the book fair is to bring a year long stock of the intoxicating incense they sell there!
Running into acquaintances was another thing I looked forward too.School friends,cousins,neighbours,teachers everyone just seemed to converge there.Another hugely enjoyable social gathering.It was one of the best weeks of the year for me,I went there as often as I could.And never was disappointed.
It all changed the last time I went after a break of 2 years.My first visit since coming here.And somehow it all changed.The stalls were the same.The people going in were the same.Even most of the books were the same.But I felt like an alien there.I stood there,looking for a familiar face and there was none.I was alone in the crowd.Although I did manage to go through some of the books I had been looking forward to,most of which I found in the library here anyway.Still there was something missing,and it was then I realised I was looking for my past there.An over enthusiastic kid running from stall to stall,spending 5 hours lost in books.And I knew I couldn't find him,times do change.
I came back,spooked.I don't know if I will ever manage to go again.Maybe with a different perspective I will.With that hollow feeling.